About Lake City Angling Service Guides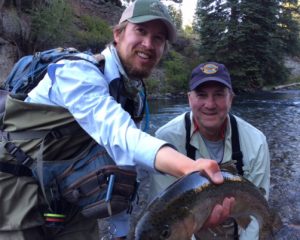 Flyfishing opportunities abound in the Lake City area. Beginning flyfishers find our many small, unintimidating streams (Big Blue Creek, Henson Creek, and Cebolla Creek) the perfect places to learn the basics of the sport, with an excellent chance of success. Most experienced flyfishers take on the challenges of large browns and rainbow in bigger waters like the Lake Fork, Gunnison, and Rio Grande. Wherever you fish, the waters of the Lake City area will entice you to return year after year.
Lake City Angling Services, through Dan's Fly Shop, can help make your flyfishing experience in the San Juans the best it can be. In order to maximize personal attention, we limit parties to two persons per guide unless arranged otherwise. Trips are available from April through September. Scheduling is flexible, but for July and August trips, we suggest that reservations be made 4 to 8 weeks in advance.
For information about our Guides, click on the fishing guide photos below.
Operating under a Special Use Permit on the Gunnison National Forest.  Dan's Fly Shop Outfitters Guide Service is an equal opportunity service provider.