Guides
Bryan Hess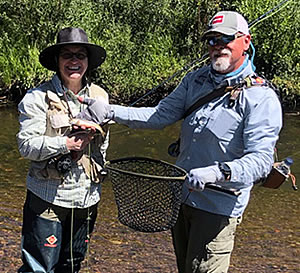 Bryan Hess has been in the Gunnison Valley since 1998. His full time job as a paramedic has taken him many places throughout the world including the South Pacific, Mexico and the Bahamas.
Never far from water, he grew up on streams and lakes in Pennsylvania and spent 10 years in Florida before calling the Rockies home.
He enjoys fishing the local waters with dries, nymphs and streamers and has recently picked up euro-nymphing.
He has been a beat judge and a monitor for the World Fly Fishing Championship and the local Superfly fundraiser for the Gunnison Angling Society.
He has had the fortune to visit NZ to sight fish big browns on the South Island. He frequents WY to float and fish and hopes to add Alaska and maybe even Mongolia to the list.