The History of Dan's Fly Shop
Tying flies since 1959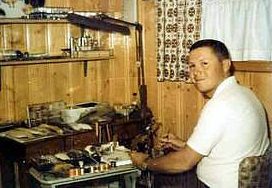 Dan started tying flies in 1959 while helping his parents build Pleasant View Resort. Soon he was catching fish on his own flies while tramping all the streams he could find. He was hooked for life. It didn't take much persuasion for resort guests to get him to take them along on his fishing excursions.
Dan's Fly Shop which had its beginning at Pleasant View Resort in 1959, moved to its present location in 1984. Here it has seen twenty-five fun filled summers with many happy fishermen and enough fishing tales to fill a book. It has seen snowy winters and slushy springs and glorious falls.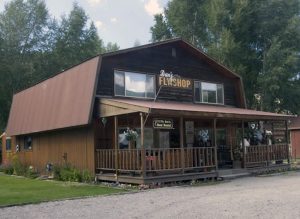 When you find your way back to Lake City each summer, you can expect to find everything you need to make your fly fishing experiences a success.  We endeavor to keep every item on hand that you have needed and used in years gone by plus you will find new and innovative tools such as the Magnetic Tippet Threader and the Mosquito Annoyer.
We have also added some gift items including Tiffany's Tea Shelf featuring Republic of Tea selections, Dan's own aromatic whole bean coffee, hand crafted journals, and a wonderful line of skin care from the Badger Balm Company. Come and see!
Dan's Fly Fishing Museum
Take a step back in time. Come visit Colorado's only Fly Fishing Museum. Dan has gathered a unique collection of fishing articles from the Lake City area. Many of the items were used by Lake City's legendary fisherman such as Henry Hoffman, Lee Harlan, Roy Scovil, and Hank Roberts. Rods, reels, creels and flies from the early 1900's plus other collectibles and Lake City memorabilia may be seen as you visit Dan's Fly Shop.  In addition to fishing collectibles, see a nice selection of photos, furniture, toys, and other antiques that tell the story of Lake City. It is a favorite stop for locals and visitors. Don't miss it!
Dan's Fly Shop Celebrates 50 Years!
Summer, 2010 brought Dan's Fly Shop full cycle to one half century. Our official 50 Year celebration day in July was filled with contests, many long time friends, new folks, food, and fun. The Trout Unlimited crew from Montrose joined us with fly tying and casting demonstrations enjoyed by kids and adults alike. Thank you to our many wonderful customers and friends alike!