Guides
George Assenheimer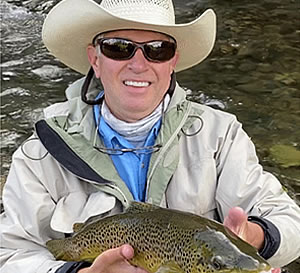 George has enjoyed a love of fishing for his entire life and has been fly fishing in Lake City for over 40 years. A native Texan, he has been coming to Lake City for over 45 years and enjoys anything outdoors including fly fishing and hiking the area trails and 14'rs.  George especially enjoys combining hiking and fly fishing in remote locations for high country trout.
What started as a desire to catch as many fish as possible over the years turned to an innate connection to nature.  Fly fishing forces one to slow down and focus on the trout's world appreciating the key elements to their survival. This reflection is important given when not on the water, George works full-time in the technology industry which seems to continue to gain complexity and never slow down.
George's part-time guided fly fishing excursions have added a whole wonderful new dimension to Dan's Fly Shop client's fishing experience.
"The solution to any problem – work, love, money, whatever – is to go fishing, and the worse the problem, the longer the trip should be."
~John Gierach