Guides
Bob Borsh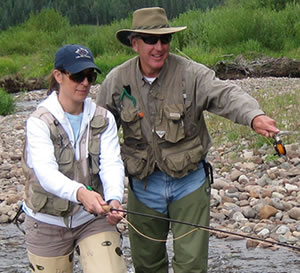 Bob Borsh has a diversified background in both manufacturing and industrial distribution encompassing corporate leadership (up to and including titles of President), ten-year owner of an explosive growth distribution company, and three consecutive years on the Aggie 100.
Bob graduated Magna Cum Laude B.S. Business from State University College of N.Y. at Buffalo and Masters of Industrial Distribution (with Highest Honors and class President) Texas A&M University, College Station TX.
Bob's optimistic outlook and high energy has benefitted the growth of his corporate clients as well as students in various college classrooms.
Teaching and training have been a huge part of Bob's professional experience and background.
Bob started his fly fishing experience during his sales management training program in Bethlehem PA.
In the ensuing 25+ years, you could find Bob in various lakes, streams, and ponds throughout the US. He visited Lake City in the early 2000s and fell in love with the community and especially the mountain streams full of beautiful mountain trout. Bob sold his business in 2010 and began his full-time LC experience teaching skiing at Mt. Crested Butte and teaching fly fishing at the world-famous Dan's Fly Shop.
An opportunity to become an Associate Professor at the incredible research university (Texas A&M University in College Station) brought an end to the mountain living lifestyle. But not his love of the place and teaching folks the skill of fly fishing.  Bob returns this summer as a fly fishing guide to share his expertise in fishing Colorado streams.